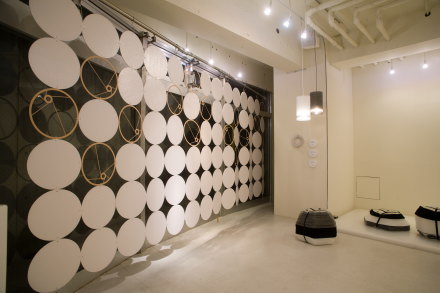 installation by Hiroshi Kawano
photo: Masaharu Hatta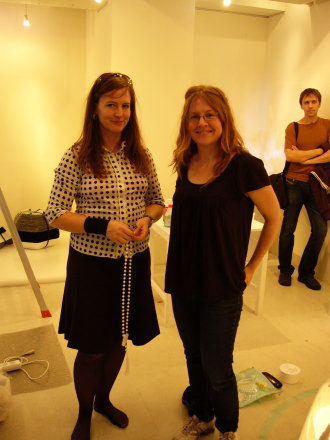 Sara Engberg, Christina Wemming
a.k.a. mori & mimosa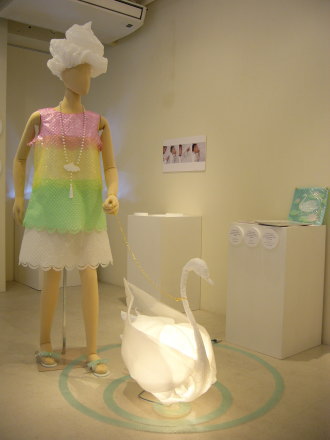 "I adore animals, but cats and racoons became boring after a time" collaction
by mori & mimosa
少々時間が経ってしまいましたが、先日開催されたDesignLuxe主催の展示会
DeLuxe?展
の様子をお伝えします。
参加デザイナーのひと組、ファッションデザイナー
mori & mimosa
がスウェーデンから来日しました。mori & mimosa は、ジュエリーデザイナーのSara EngbergとファッションデザイナーのChristina Wemmingによるデザインレーベルで、ストックホルムをベースに活動しています。彼女たちはプチプチ(R)を使用したカラフルでポップなワンピースにハット、バッグ、そして実物大の白鳥型ランプを製作しました。作品にはハート型の気泡をもつ少し珍しいプチプチ(R)が使用されています。会期中にはスウェーデンのテレビ局によるインタビューも行われました。
以下はデザイナーによる作品の説明です。
"I adore animals, but cats and racoons became boring after a time" Dress, Headgear and Swan Lamp
I adore animals, but cats and raccoons become boring after a time コレクションは、アイスキャンディーからインスピレーションを得たドレス、帽子、金の鎖につながれた白鳥の照明から構成されており、すべてプチプチ(R)を使用して製作されています。これらのプチプチ(R)からできた服装を身につけるような人を想像してみると、エキセントリックで上流階級の女性、リトルエディ(Edith Bouvier Beale)のような人物が思い浮かびました。型にはまらず恐れを知らない、個性的なスタイルを持ち、あたかもそれが自然であるかのように白鳥の照明を持ち歩く、そのような女性です。コレクションのタイトル "I adore animals, but cats and raccoons become boring after a time" は、ドキュメンタリー " Grey Gardens" 中のリトルエディのセリフから引用されてます。
以前の関連記事はこちらです。
DeLuxe? Exhibition
A short review of
DeLuxe? Exhibtion
which was organized by DesignLuxe and held from 30 October to 3 November 2008 as a satellite site of DesignTide Tokyo 2008, although over a month has passed since its successful end.
Swedish designer duo
mori & mimosa
, one of the participants, came and visited Tokyo during the exhibition. Stockholm-based mori & mimosa formed by a jewellery designer Sara Engberg and a fashion designer Christina Wemming made multi coloured pop garment with fancy icecream-like cap and cute bag as well as 1/1 scale swan lamp out of packing material air bubble sheets which have heart shaped air bubbles; you might have never seen. (those sheets are acutually sold in 8 colours in Japan though.)
Their eyecatch collectin and rare materials attracted visitors and they got interviewed by Swedish national tv station at the venue regarding their activities.
The following commentary is a description by themselves.
"I adore animals, but cats and racoons became boring after a time" Dress, Headgear and Swan Lamp
I adore animals, but cats and raccoons become boring after a time, consists of a popsicle-inspired dress, a headgear to match and a illuminated swan in a golden chain, all made of bubble wrap. The person we've had in mind wearing the bubble wrap outfit is someone inspired by the eccentric, upperclass lady Little Edie (Edith Bouvier Beale), an unconventional, fearless woman with her own personal style, taking her illuminated swan for a walk, like it was the most natural thing to do. The title of the piece "I adore animals, but cats and raccoons become boring after a time" is a quote from Little Edie taken from the documentary "Grey Gardens".