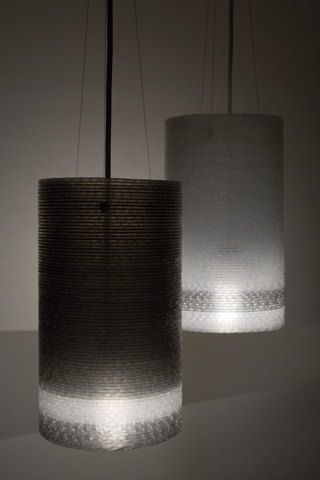 Kasumi pendant lamp by Hiroshi Kawano
photo: Takumi Ota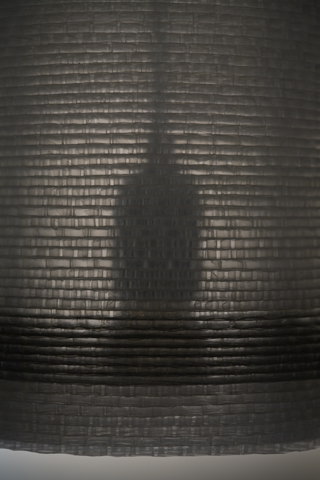 photo: Takumi Ota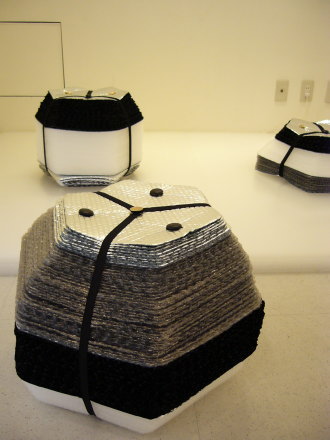 SPARKLY GEM by Yuniic Design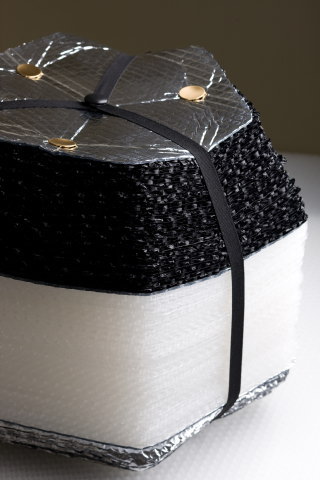 photo: Masaharu Hatta
DeLuxe? Exhibition
出展作品の紹介vol.2。
インテリア・プロダクトデザイナーの
川野 博
氏によるKasumi pendant lampは、プチプチ(R)の切断面に着目したライトです。円状に切り取ったシートを無数に重ねることでできる積層が、独特の美しさを生み出しています。素材の持つ透過性によって、光源の明かりがシェードに柔らかなグラデーションを作り、幻想的な雰囲気を醸し出します。
スイスのチューリッヒをベースに活動するデザイナーのChristina PrimschitzとThierry Villaviejaによるデザインチーム
Yuniic
は、SPARKLY GEM というスツールを製作しました。SPARKLY GEMもまた、プチプチ(R)を幾層にも重ねた作品で、異なる大きさの六角形にカットされたシートを束ねることで、ボリュームと耐久性を実現しています。シートを重ねただけのシンプルな構造ながら十分な耐荷重を持ち、気泡シート特有のクッション性が快適な座り心地を生みます。高い強度のシートを使用しているので、腰をかけても気泡がつぶれることもありません。
以下はデザイナーによる作品説明です。
Kasumi pendant lamp by 川野 博
秋の夜空の情景にインスピレーションを得た照明です。時間とともに移りゆく夜雲を表現するために、2種類ご用意いたしました。
SPARKLY GEM by Yuniic Design
SPARKLY GEM コレクションは、一般的な宝石のファセットと、その明確なキャラクターにインスピレーションを得ています。宝石はひとつとして同じものが無く、見るものの直感や感情が、その宝石の価値を決めるうえで重要な役割を果たします。白からグレーといった異なるカラーのプチプチ(R)を幾層にも重ね、機能的かつ塑像的なオブジェクトを制作しました。様々な種類のシートを切り抜き、それをゴムバンドできつく束ねることで、スツールとして耐えうる堅牢なオブジェクトを実現しています。SPARKLY GEMを上下逆さまにすると、それまでと全く異なる輝かしい宝石がそこに新たに姿を現し、その高い付加価値が実証されます。
以前の関連記事はこちらです。
DeLuxe? Exhibtion : works vol.1
A short review of DeLuxe? exhibition vol.2
Kasumi pendant lamp, designed by interior and product designer
Hiroshi Kawano
, is made out of a packing material Puti Puti (R) being focused on its section. A layer of countless circularly cut air bubble sheets creates unique aesthetic and a subtle gradation of the light shows up through the materials thanks to its permeability, when the light is on. There is an atmosphere of fantasy around this lamp.
Zurich-based designer duo
Yuniic
, formed by Christina Primschitz and Thierry Villavieja, made SPARKLY GEM stool collection. They piled up hundreds of hexagonal air bubble sheets cut from three different kinds and bound them with elastic cord to shape a gem-like stool with enough volume and durability. SPARKLY GEM is so durable although it's just simple construction of layers of sheets with no frame. Air bubbles make a stool stable and comfortable enough, and they'll never pop even though an adult sit down on it.
The following commentaries are descriptions by designers.
Kasumi pendant lamp by Hiroshi Kawano
A lighting inspired by an autumn night sky. Two different colored lamps express a night cloud which changes its form with a lapse of time.
SPARKLY GEM by Yuniic Design
The stool collection SPARKLY GEMS is inspired by the fascination of faceted gems in general and their certain characteristics. Every single gem is unique and the perception and emotion of the beholder is playing an important role in determining the value of a gem stone. Various layers of different Puti Puti(R)
sheets in the colour range from white to gray were used to create a functional and sculptural object. The different sheets are cut into the appropriate shape and simply connected by an elastic round cord to keep the object compact and stable when used as a stool. The SPARKLY GEM shows its additional value when you are turning the whole object upside down, it appears as a totally different gem but still continues sparkling...