Break Tiem by MicroWorks
photo: Masaharu Hatta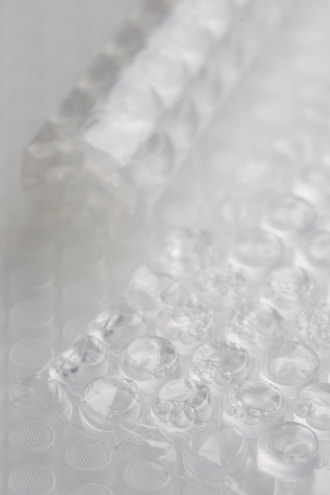 bubbles by studio note
photo: Masaharu Hatta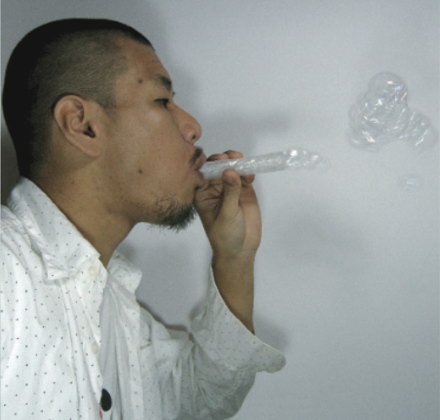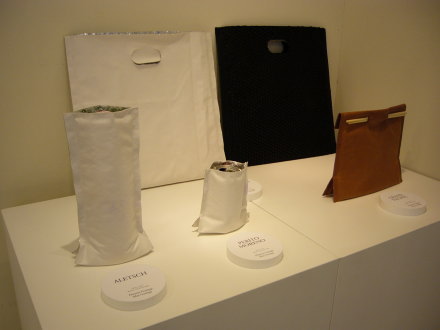 GRAND PACIFIC, PERITO MORENO, ALETSCH, ATHABASCA by Hannes & Max Gumpp
DeLuxe?Exhibition
出展作品の紹介vol.3。
MicroWorks
による Break Tiem は、コットンのネクタイの裏地にプチプチ(R)を張ったユニークな作品です。
気泡を指で潰してストレスを解消するという行為に着目し、日常生活の中にその行為を溶け込ませます。ビジネスシーンに不可欠なネクタイと、そこに溢れる些細なストレスを結びつけ、2つの事象を同時に解消します。その大胆でユーモラスなアイデアもさることながら、ブラックのシックなタイと異素材のプチプチ(R)というコンビネーションも秀逸で、ファッションアイテムとして十分な魅力を持っています。
studio note
によるbubbles もまた、プチプチ(R)の気泡(粒)を潰すということに、機能を持たせた作品です。
画像では少しわかりづらいのですが、シートの粒々の中にはシャボン液が充填されています。シートを丸めてひねると潰れた粒の中からシャボン液が漏出し、息を吹きかけると不思議な形のシャボン玉が次々と宙に舞います。プチプチ(R)シートの粒に空気ではなく、液体を入れるという新しい発想から生まれた作品です。
ドイツのミュンヘンを拠点とするインダストリアルデザイナーの
Hannes Gumpp
と彫刻家のMax Gumpp、双子のクリエーター兄弟による作品は、保温高価の高いアルミをラミネートしたプチプチ(R)にレザーを張り合わせたエレガントなクーラーバッグ、ボトルクーラーのシリーズです。
無骨なイメージの保冷グッズを、ファッションやインテリアと同じ視点で捉え、普段の生活にしっくりとマッチするハイセンスなクーラーバッグを目指して作られました。GRAND PACIFIC、 PERITO MORENO、ALETSCH、 ATHABASCAという各作品のネーミングは、世界中の氷河に由来しています。
以下はデザイナーによる作品説明です。
Break Tiem by MicroWorks
現代の社会生活を送る上で感じる様々な小さなストレス。取引先へのご機嫌取り。
「いや〜、今後ともひとつ…」ぷちっ。
同期が先に昇進。
「いや〜、たまたまだよ…」ぷちぷちっ。
上司のつまらなくて長い話。
「昨日ゴルフ場で専務がさ〜…」ぷちぷちぷちぷちっ
。Break Tiemはまるで休憩時間のタバコやコーヒーのように、あなたのストレスを和らげてくれるはず。そう、包んだ物の衝撃を和らげるように。
bubbles by studio note
気泡シートの梱包力以外の一番の魅力は、プチプチと潰すことにあると思います。プチプチするとおしまいですが、潰すことで出来上がるプロダクトを作ろうと考えました。シートの凸部分にシャボン水が入っていて、潰すとシャボン水が出て来きます。息を吹きかけるとシャボン玉が出来上がる、潰した後に楽しめるプチプチシートです。
GRAND PACIFIC, PERITO MORENO, ALETSCH, ATHABASCA by Hannes & Max Gumpp
日常で使用することのできる、エレガントなクーラーバッグシリーズ。一般的に保冷グッズは、大きくて不細工なものが多く、そのためキャンプなどで使用されることがほとんどです。そこで、クーラーバッグの機能を日常生活に持ち込めないかと考えました。保温機能を持つアルミコーティングのプチプチ(R)と、良質なレザーという特異な組み合わせから、シンプルでエレガントなクーラーバッグシリーズが生まれました。マーケットで買った新鮮な魚も、オフィスへ持って行くランチも、ピクニックや友人のパーティーへ持って行くワインやシャンパンも、バッグの中身は常に冷えています!シリーズは、異なる用途のために4つのバリエーションを展開しており、各バッグの名前は地球上のもっとも有名な氷河からつけられています。
以前の関連記事はこちらです。
DeLuxe? Exhibition : works vol.1
DeLuxe? Exhibition : works vol.2
A short review of
DeLuxe? Exhibition
vol.3
Break Tiem, designed by
MicroWorks
, is made of cotton tie and a packing material Puti Puti(R) being attached on the back.
He focused on the action to pop the air bubble to get rid of the stress; this must be what every one has done. He combined a tie which is a must for the business scene and trivial stresses frequently appeared there. Break Tiem confronts relationship between these two matters simultaneously. A bold and humorous idea is hilariously unique, moreover a combination of black chic tie and the packing material is cool enough to satisfy fashion enthusiasts.
Studio note
also directed his attention to an act that someone popped air bubbles of Puti Puti(R) just for a fun, and he gave this action another function.
The sheet contains liquid soaps in every bulge, although it's kind of hard to see in the picture above. Once you twist rolled sheet, some liquid soap come up. By blowing it an odd soap bubbles spring out in a cluster. This project is the result of an innovative idea to fill the air bubbles not with air but liquid.
An industrial desiger
Hannes Gunpp
and a sculptor Max Gumpp, twin brother besed in Munich, developed elegant cooler bag and bottle cooler collection by laminating quality leather onto aluminium coated Puti Puti(R).
They were aiming to make cooler bags; unrefined generally more sophisticate to fit every day life much better, observing them as same level as fashion and interior design. The each cooler GRAND PACIFIC, PERITO MORENO, ALETSCH, ATHABASCA is named after some of glaciers around the world.
The following commentaries are descriptions by designers.
Break Tiem by MicroWorks
There are so many trifles full of stress in the modern society.
You sometimes need to be a flatterer.
"Looking forward to working with you…" Crush the air bubble, pop!
Your colleague has won quick promotion. He/she said "Thanks, but it was just a chance." Pop, pop!!
You can't escape from your boss' long boring chat.
"Yesterday, the exclusive director was playing golf like…" Pop, pop, pop it up!!!
Break Tiem will reduce your stresses like coffee and cigarette at a break time, in the same way just like Puti Puti(R) buffs a shock.
bubbles by studio note
Another fascinating usage of air bubble sheet is definitely to pop its bubbles besides to wrap something. So I tried to create a product completed by crushing air bubbles. "Bubbles" contains liquid soaps in every bulge. Some liquid soap spouts out from the bulges once you crush them. Just blow the liquid soaps leaping out from bulges to make bubbles. "Bubbles" is a Puti Puti(R) sheet which you can have a double fun, popping air bubbles and blowing soap bubbles.
GRAND PACIFIC, PERITO MORENO, ALETSCH, ATHABASCA by Hannes & Max Gumpp
A series of elegant coolbags for everyday-life.
Insulating bags and boxes usually are either big - or ugly. That's why they are only used for camping. Our idea was to transfer the comfort of coolbags to everyday life. An unusual combination of materials - insulating, aluminium-coated Puti Puti(R), welded on fine leather - gave birth to a family of simple and elegant bags...
... for buying fresh fish at a market, for lunch at the office, for picnic or for bringing a bottle of wine or champagne to a friends party - cool and ready to open!
The bags are developed in four different convenient shapes and sizes and named after some of the most famous glaciers on earth.